Every successful landscape project begins with a plan
No matter how large or how small. When creating an overall design there are many individual elements that come together to form your landscape.
At Garden Designs by Angela, our goal is to deliver a custom landscape design tailored for each client's unique style and budget. We work with Edmonton's finest landscape contractors, and we will forward your plan for an estimate and assist you in selecting the landscape contractor that is the best fit for you.
Landscape Design & Consulting Options
We offer our clients a choice of landscape design and consultation service to suit any project. If you are unsure of which landscape design service best suits your needs, please send me an email describing your project; what you want to do and what you need help with and I can determine what service is required.
New Client Questionnaire
The information that you provide to me is very important to the success of your landscape investment. Please take the time to download and fill out this questionnaire and email it to me or have it completed for our initial meeting.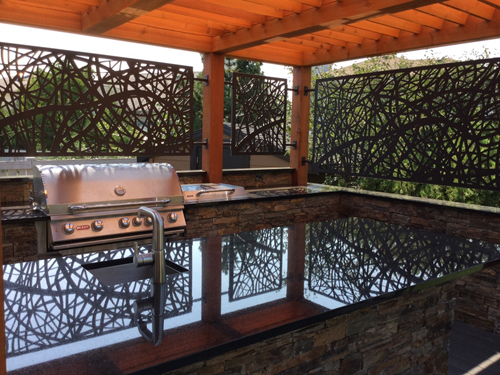 testimonials
1
LANDSCAPE DESIGN – MASTER PLAN
FULL SERVICE LANDSCAPE DESIGN PROCESS
INITIAL MEETING – Site visit, review landscape design questionnaire, view photos of hardscape materials and plant material ,
Site measurements  , laser level elevations ( if required )
LOT PLAN REQUIRED AT THIS TIME . PLEASE ADVISE IF NOT AVAILABLE
BUDGET : PLEASE BE PREPARED TO DISCUSS BUDGET.
IT IS CRUCIAL THAT I KNOW YOUR BUDGET BEFORE BEGINNING YOUR DESIGN
SO THAT ELEMENTS OF YOUR LANDSCAPE DESIGN ARE OBTAINABLE .
The initial meeting generally takes 2 hours
PRELIMINARY DESIGN –Review landscape design concept, layout , hardscape material selection , review of plant material selection , identify areas to revise
Please allow 2 hours for the preliminary meeting
FINAL DESIGN – Full landscape design with technical and material specifications for contractors. Includes a plant picture catalogue and plant material list
Full payment required at this time
Basic changes are included in the design fee. Revisions that require more than 1 hour are billed at $125/hour.
2
LANDSCAPE CONTRACTOR
Depending on the complexity of your landscape design, site meetings may be required to fully communicate all design elements. Contractor meetings billed at $ 125/hour.
FULL SERVICE LANDSCAPE DESIGN FEE BUDGET
DESIGNS START AT $1100 FOR A BASIC DESIGN (5 HOURS DESIGN TIME + ALL MEETINGS )
YOU WILL BE PROVIDED WITH AN ESTIMATE AT THE INITIAL MEETING.
3
LANDSCAPE DESIGN FOR D.I.Y HOME OWNERS
Landscape design for homeowners doing their own installations requires more detail and specifications than landscape designs intended for the professional landscape contractor.
The D.I.Y landscape design follows the same process as the master plan, but it includes additional specifications such as :
Product Sourcing
Quantities/ Take-offs (mulch, sod, paving stone, aggregates )
Planting Instructions
Plant purchasing info and estimating
Sub Contractor referrals
Budgeting
Pictures that correspond with your landscape design
D.I.Y. LANDSCAPE DESIGN BUDGET DESIGN FEES START AT $1300
You will be provided with an estimate at our initial meeting
4
CONSULTATION
For the client the that DOES NOT need a landscape plan, we offer hourly, on-site consultation.
A landscape consultation is a walk about with a professional landscape designer and may include:
Landscape design ideas
Suggestions on how to improve your landscape
Recommendations for reducing maintenance
Recommendations for edible landscapes
Planting for privacy
"Sell your house " landscape makeover/staging
Condo / apartment patio design ideas and container plantings
** No plan is exchanged. I will take key notes and give you the notes at the end of our meeting.
CONSULTATION RATES
Hourly rate of $125/hour
Minimum charge of $600
Hourly rate includes travel
Payment for services due in full upon completion.
5
CONSULATION WITH SPECIFIC AREA PLAN
Ideal for designing a particular area and small landscape renovations.
Includes scaled CAD drawing, plant and materials list including a picture catalogue, technical and material specifications.
Specific Area Plan
Example: entrance design, patio design, water feature , fireplace design, structures, raised vegetable gardens  design.
Small Landscape Renovations
Example: Plant material selection and recommendations to enhance existing landscapes.
Hourly rate of $ 125/hour
Minimum charge of $600
Hourly rate includes travel